A couple of weeks ago, Beaver, our jet black indoor-only house cat, made a break for it while the front door was open for unloading groceries. It was dark and we didn't notice until the next day when she didn't show up for food. I checked cloud storage on our Ring floodlight cameras and saw the shifty little beast sneaking around the front yard, but, around 2:30 am, she crept past my truck and out of view of any cameras.
With a new baby in our home, we quickly realized having cameras in the back could become important. I've read a lot of good things about Arlo cameras, which come highly recommended by several members of The Smarter Home Club's group on Facebook. I'd kept my eye out for deals on them and the day after Beaver's adventure, I saw a great price for the cameras and pulled the trigger. A few days ago, I decided to get everything into service and quickly found that Arlo cameras are so easy to set up, your Grandma can do it.
First, unpack everything and charge the batteries – there was only 1 charger with the two battery pack, so I assume that's standard. It's a standard micro USB, so easy enough to dig up a spare. The batteries were fully charged out of the box for me, though your mileage may vary.
Next, down load the app and set up your account. You will need to use a valid email to confirm the account and the password rules are a little more secure than most apps.
Adding the hardware is straight-forward, with the app guiding you step-by-step:
1. Add device
2. Scroll down to base station
3. Plug in the Ethernet cable
4. Plug in the power adapter
5. The app will find the device- you'll need to name it. Mine is "Arlo Base Belong To Us"
6. Add device
7. Select Arlo Camera
8. Select your base station
9. Select your camera model
10. Insert batteries
11. Hold the sync button until the blue LED blinks
12. The app discovers your camera
Repeat steps 6 through 12 for each additional camera. Note, in the app, the most recent view for that camera is displayed as the snapshot on your Devices screen.
Now it's time for an amazingly easy hardware install!
Grab your power drill to run in one of the included screws for the camera mounts. If you're hanging them in drywall, there are correct sized anchors. If you're mounting on masonry, don't make a note of the size of the head on the included screws and use an appropriate masonry bolt. I mounted both of my cameras on wooden surfaces, so used the included screws without anchors.
Free advice – snug the head of the screw pretty close to the surface you're mounting to, then back it out a tiny bit at a time until the magnetic dome fits on snugly on the screw's head.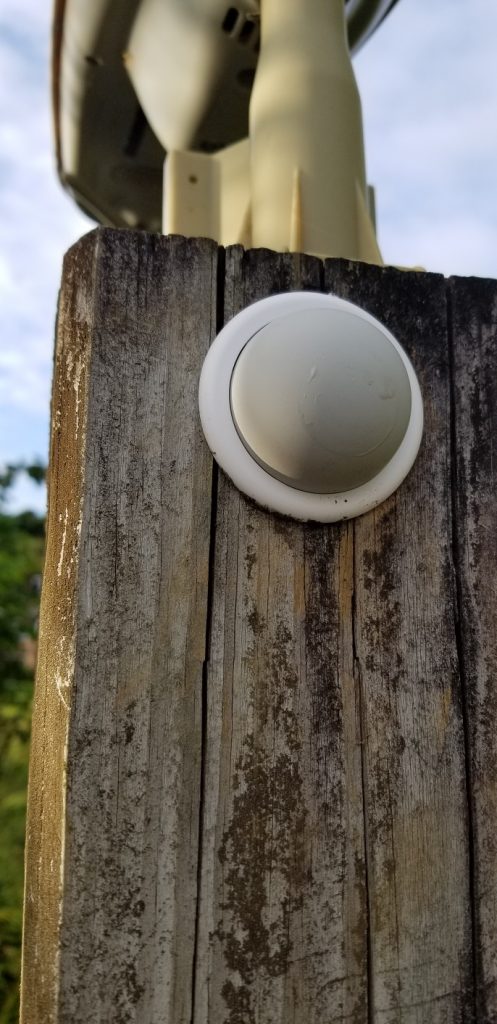 Once you've got the magnet mount hung, slap your camera on – there is a concave surface on the back of the camera which is what contacts the mount.
Use the app to view the camera angle and picture, in order to fine tune the camera's position. There is a slight delay, so be patient.
I've found the picture to be crystal clear, beautiful resolution. The night vision is excellent, with great range. The picture quality is head and shoulders above my Ring floodlight and doorbell cameras, with (much) simpler install, free 7 days of video storage, rather than requiring a subscription, and superior video quality for a lower cost per unit… and they're WIRELESS! This is, in my opinion, a superior product on every level. You can even get solar panels to keep the batteries charged – I don't know that I'll go with the Arlo brand panels at $80 a pop, but I do think I'll get a compatible panel to try out. I also would like to get a couple more of these cameras to cover the pool and patio. Safety first!
And, in case you were worried, I found the cat hiding in the jungle behind my patio. All's well…
SmarterHome.club is the website for our Facebook community, The Smarter Home Club – which is an umbrella for all kinds of smart home technologies – home automation, security, custom electronics, weather stations, alternative energy, you name it. DIY focused.
If you're interested in joining the Smarter Home Club's Facebook group, please follow this link: