In my last post (HERE), I covered the super-easy install of the Arlo Pro 2 camera system. I walked you step-by-step through the ridiculously easy setup and then raved about the picture clarity and ease-of-use. The only trade-off I can see, in fact, is that you have limited battery life in exchange for a wire-free install. Yesterday, I had my first battery discharge after 5 days. I could live with that, charging batteries every 4 or 5 days, but I'd rather not.
Normally, I'm the last person you'll ever hear talking about "going green." In order to go with something that's had the green label slapped on it, that product needs to perform as well as a standard alternative and either provide an immediate cost savings or else pay for itself in a brief period of time. That "pay off" can be in financial savings or it can be for an equivalent financial cost but combined with a labor or time savings. In this case, I won't have to pay for electricity to charge the batteries, I won't experience any down time while charging, and I won't need to shimmy my big ass up a ladder to get the camera battery. This product concept wins all the way around. Let's go solar!
First of all, I wasn't surprise that one camera went down while the other had a 40% charge. The canal-side camera is a lot more interesting to me, especially since it is mounted on the same post as my weather station's sensor, so I like to view weather conditions there. The other camera is mounted up high, just under the roof, overlooking the pool's heat pump. That one is only interesting for security purposes.
I read the reviews of the Arlo solar panel and found that owners are fairly satisfied. When I priced it, however, I found that the cost of a panel was nearly equal to that of a camera – $79 shipped on Amazon. I did some shopping around and found a set by Wasserstein with good reviews for about 25% less, so decided to give them a try. I had just finished charging the canal-side camera's battery (which takes no time) when the shipment arrived this afternoon.
The package contents are a brief instruction set, 3 screws, 3 anchors, mounting bracket and the solar panel. The charging cable isn't detachable. Since this isn't exactly a high tech process, I wasn't expecting any detailed engineering plans or anything.
The back of the panel has a set of rails that the head of the mounting bracket slides into. You can see the indention where the panel's tab clicks in to the mount at the top.
Mounting the bracket into wood was quick and painless, though I realized that, on my first try, I'd pointed the panel to the East. The panels should face South to maximize exposure to direct sunlight during the day. I quickly re-hung the mounting bracket on the southern edge of the post and set the panel on the bracket.
One note – the charging cable is 5.9 feet long. The manufacturer wrongly claims that this is the greatest distance that you're able to carry charge from a solar panel over USB cables. Total BS – they're just not willing to provide a longer cable for cost reasons. Take it for what it's worth! In any case, I prefer to install panels close to the products that they're powering, so I've wrapped about 4 feet of the cable around the mounting bracket.
All together, even with one goof, the canal side camera's solar panel install took less than 2 minutes. The pump side camera took longer. First of all, I needed a ladder, but, also, because I was mounting into a harder wooden surface, I discovered that the screws included with the kit are also a cost saving measure. They strip easily, with very little torque applied. I removed the screw and found a couple of replacements in the garage, which took longer than this bracket's install. Total time 7 minutes, 6 of which were spent digging through boxes of fasteners.
Ease of installation matters a lot to me and is one of two critical factors (in my opinion) – bottom line, if you can't get it set up, you can't use it. I want to find products that aren't just easy for ME to install, but which are simple for people looking for guidance, especially those with physical challenges or who have little experience in the tech side of the world. This product fits that category, though if you chose a high location and require a ladder to reach it, then you may need someone to help you – but that's due to location requirements, not because the product complicates things.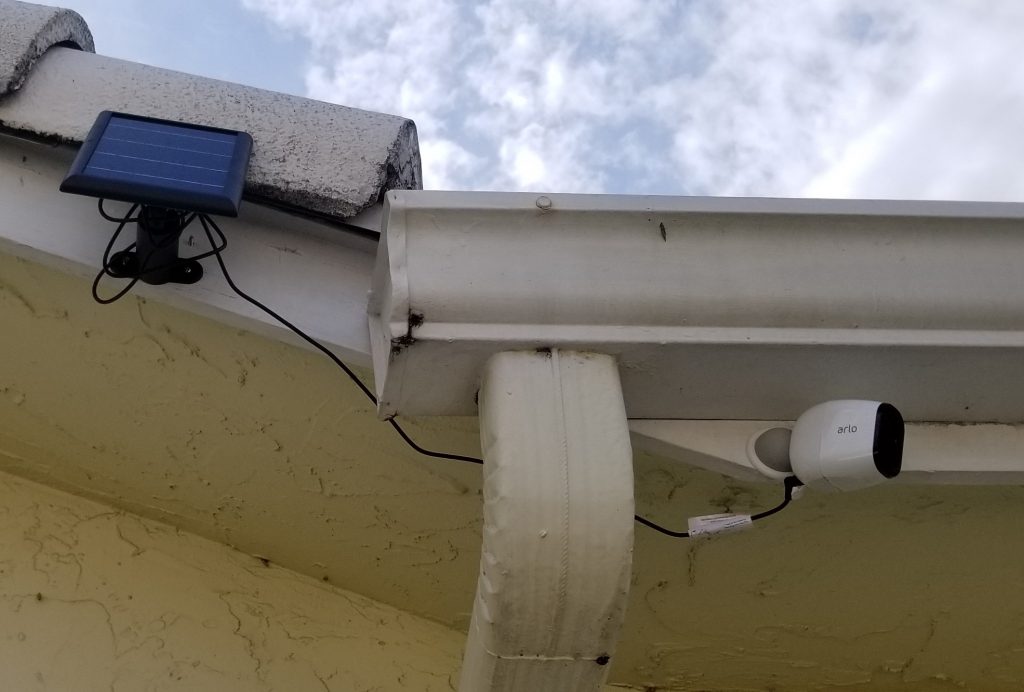 The other critical factor is how well does it work? I had one camera at 100% and one at 98% when I started the install. Ninety minutes later, both cameras are at 100%. Obviously, this will drop each time i view the cameras after the sun is setting, so I want to see how well the panels maintain charge over the course of a week or two.
Living in Florida, there's always sunshine to be had, even during rainy season, though I don't expect any panel to magically keep the batteries at 100% around the clock. I'll include information about the panels when I write a follow up on how the Arlo cameras perform over the next few months!
SmarterHome.club is the website for our Facebook community, The Smarter Home Club – which is an umbrella for all kinds of smart home technologies – home automation, security, custom electronics, weather stations, alternative energy, you name it. DIY focused.
If you're interested in joining the Smarter Home Club's Facebook group, please follow this link: