Hue bulbs (and devices that emulate them) are a great first step into the world of Home Automation. In bulbs, you have dim-able white bulbs, as well as bulbs that can change color with input from the user in the Hue app. You've also got light strips as well as in-wall switches – you can set up a significant part of your home automation ecosystem Philips Hue and compatible brand products that easily integrate with Amazon Alexa or Google Home.
There are two main "controller" options if you want to use Hue bulbs, the Hue Bridge and the Amazon Echo Plus. While there are a couple of oddball devices out there, I am not aware of any significant advantages to using them (example – Osram Lightify), so I don't make recommendations for them. Hands down, the Amazon Echo Plus is the easiest way to get Hue bulbs set up and running. However, if you want more advanced control – say for integration with Hubitat or SmartThings, you're going to need to set up the Hue bridge. The good news is that it's pretty easy!
To get started, download the Hue app on your mobile device – from the Google Play Store on Android or the App Store on iPhone.
You'll need to create an account in the app, but this is standard in the Smart Home world.
Connect your Hue bridge to your home network using an Ethernet cable. Keep in mind that if you've got more than 1 wireless network, you want to make sure that your Hue Bridge is physically connected to the network that hosts the Wi-Fi network your mobile device connects to. Plug in the power adapter for your bridge.
From here, the steps are even simpler. Open the Philips Hue app. It should find your Bridge and prompt you to enter Set up.
When instructed, press the button on the Hue Bridge. Tricking your cat into pushing the button may not be worth the trouble and, despite what the app shows, I found it wasn't needed.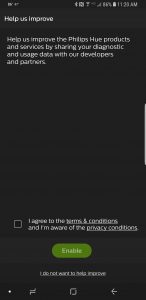 Agree to terms and conditions or tap "I do not want to help improve"
If a firmware update is available, you should install it. As the app says, make sure the bulbs and bridge remain connected to your electrical service. When it is complete, tap DONE.
You'll need to do the initial setup of your home, where you create a room and add the default lights. My bridge came with two bulbs and the app showed them by default (even though I didn't have them in lamps). I added them to the default room.
That completed the setup. As you see, it's very simple. When you're ready for voice control, with Alexa, for example, enable the Phillips Hue skill and "Add New Devices" in the Amazon Alexa app.
SmarterHome.club is the website for our Facebook community, The Smarter Home Club – which is an umbrella for all kinds of smart home technologies – home automation, security, custom electronics, weather stations, alternative energy, you name it. DIY focused.
If you're interested in joining the Smarter Home Club's Facebook group, please follow this link:
The Smarter Home Club on Facebook